Tuckertorium stood on the corner of Tucker and Patterson Roads in Bentleigh for more than 50 years – since at least 1965. After years of planning and renovations, it opened as Good Times Milk Bar in 2018; a colourful, Californian-cool cafe. – via Broadsheet

The design and fit-out of the Milk Bar looks fantastic! However, the metal roof above still needed some work.
An ACR Roofing estimator visited site to inspect the roof. As you can see for yourself in the before photo, the original roof was in seriously bad condition!  The roof pitch was below 1 degree and therefore non-compliant. The area would need to be restructured to meet the minimum requirement, of 1 degree. As a result of the non-compliant structure, water ponding & severe discoloration covered the entire roof.
ACR's Melbourne roofers identified the problem with the existing roof and also determined the solution – an entire roof replacement. Each day onsite our team removed an area of the old roof sheets and installed new timber battens to correct the roof fall. We then installed 'BlueScope Plain Zincalume Speed Deck Ultra' roof sheeting, in a heavier grade material. We complete the roof replacement process to an individual area of the roof each day. Consequently, the roof remains watertight at the end of each day. In addition, the Good Times Milk Bar was able to continue business as usual, whilst cordoning off the area below.
The end result
Evidently, the roof replacement was a success. All thanks to the ACR Roofing Team, the roof now has a compliant roof pitch. As a result, water on the roof is now able to flow down the surface and into the newly installed box gutters. Eliminating any water ponding, and thus any further leaks and deterioration.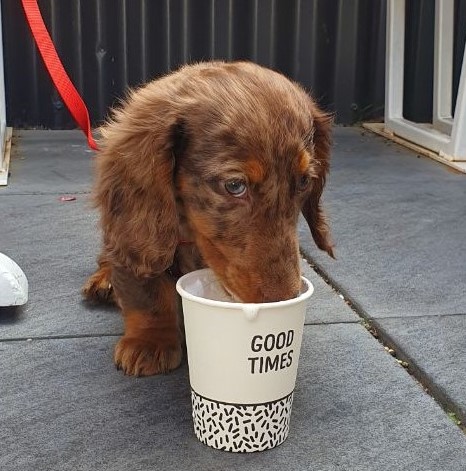 Junior Woofing Estimator, Parker, visited site to inspect the completed works. He approves the quality of the roof replacement… as well as the Puppycinos!