The owner of Woodfrog Bakery, contacted our team after purchasing a vacant factory with an asbestos roof, located in Moorabbin. The factory was in need of an asbestos roof removal and replacement. Coincidentally, next door neighbours to an old Aircraft Hanger. The same Aircraft Hanger our team completed a metal roof replacement to, just one month earlier!
The vacant space will eventually open as the 10th Woodfrog Bakery. In addition to the 9 bakeries already running across Melbourne.
"The Woodfrog Bakery began life in a big vacant furniture shop in St Kilda. With a plan to create some of the finest breads imaginable, without compromise. In our arsenal was baking experience at some of Australia's finest bread shops, an attitude to solve any problem in our path and the ability to function on very little sleep."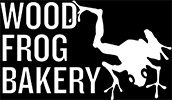 Being an asbestos roof, consequently the only option was an entire roof replacement. Our roofing specialists allowed to remove the entire asbestos roof, replacing with BlueScope roofing materials. Along with the side and front asbestos wall cladding and associated flashings.
We installed perimeter safety rail and craned all materials onto site, therefore ready for our team to commence works. After removing the asbestos roof and wall cladding, we installed safety mesh as well as 60mm roof insulation blanket. As a result, keeping the building cooler in summer and to prevent heat loss in winter.
We installed BlueScope Plain Zincalume Corrugated roofing materials, including all flashings and gutters. As the wall cladding is visible from the ground, our team installed Colorbond wall cladding – in the colour 'Surfmist'. In addition to the new metal roof, we also installed Ampelite Wonderglas GC translucent sheeting.
The end result looks fantastic and the before and after photos below, highlight the dramatic change. Our team, as well as the client, are very happy with the asbestos roof removal & replacement. We are excited to see how the building looks after being transformed into a new Woodfrog Bakery!